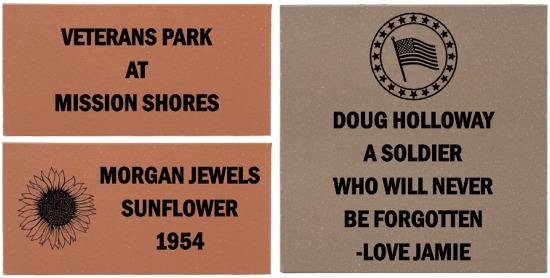 Veterans Park at Mission Shores is providing an opportunity for you to purchase a tile to honor or remember a Veteran.  The tiles come in two size: 4'x8" (red) and 8"x8" (gray).  Just follow this link to purchase your tile online: 


The tiles will be permanently installed under the pavilion in the park.




Veterans Park at Mission Shores is a not-for-profit organization, classified as tax-exempt under section 501(c)(3) of the Internal Revenue Code.  Contributions may be deductible to the extent permitted by applicable laws.  Please consult your attorney or tax advisor for details.  Our federal tax identification number is 85-3472425.